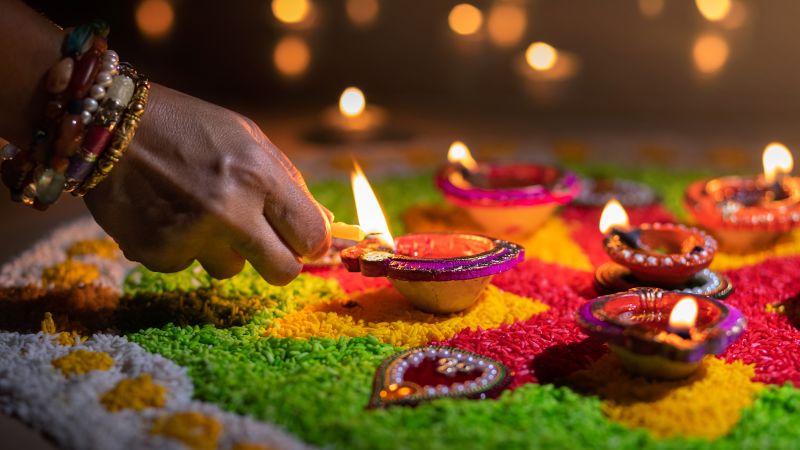 More and more brands are recognizing the Diwali festival and stocking products related to the holiday. South Asian Americans who celebrate Diwali can now pick up fireworks from Costco, greeting cards from Hallmark, and party decorations from Target.
Diwali, also called Deepavali, is a very important festival in Hinduism. Sikhs and Jains also celebrate it because it has special meaning for them. People celebrate Diwali in India, Nepal, Malaysia, Singapore, and other countries where there are people from South Asia.
The acknowledgement of the holiday by more and more people in the US is a big change for many South Asian Americans who grew up celebrating the festival at home, but who rarely saw it acknowledged outside of their communities, says Soni Satpathy-Singh, who runs the website Meal Matchmaker.
Eight years ago, Satpathy-Singh wrote that Diwali hadn't caught the attention of retailers, despite the Indian American population's growth. Today, the landscape looks different.
"Eight years ago, not many people in America celebrated Diwali, but now you can buy special things to help celebrate it," she told CNN. "When I was younger, we would get diyas (lights) from India or use things my parents already had at home. We didn't have many choices for celebrating, partly because there wasn't much available."
The number of Diwali ad campaigns and products has increased, reflecting the growth of the South Asian population in the US.
More businesses are taking notice of Diwali because it is a good way to attract customers, according to Dhatri Navanayagam, a senior strategy director at the marketing agency Essence Global.
Asian Americans are the largest immigrant group in the United States and are projected to become the country's largest racial or ethnic group by the middle of the century.
Diwali is an opportunity for businesses to make money because people give gifts and have parties with their friends and family. But businesses need to make sure their products and advertising seem authentic, or else people will not buy them.
Lego is a good example, says Navanayagam. The company's website has ideas for Diwali gifts and how to make a rangoli out of Lego pieces, which people might already have at home. This is relevant because many people are facing financial pressure, she adds.
Satpathy-Singh has also seen some companies making more of an effort for Diwali. For example, the cookware brand Our Place is selling a Diwali fry set for consumers making samosas, jalebis or murukku as part of their celebrations. Additionally, the party supplier Big Dot of Happiness makes Diwali decorations that people can purchase.
She has seen some efforts that are not very thoughtful, like when Edible Arrangements made a Diwali-themed platter with chocolate-covered strawberries and mini cheesecakes with sprinkles. She thought this had nothing to do with the festival.
Small business owners in South Asia have been creating special products for the Diwali holiday for a long time, according to Malai founder Pooja Bavishi. Recently, big brands have started to recognize Diwali, too.
Malai, an ice cream business in Brooklyn, started selling its Diwali Celebration Box in 2019. The collection includes items like gulab jamun ice cream cake and Parle-G masala chai ice cream sandwiches. Bavishi says this is for a new generation of Indian Americans who want an updated twist on familiar flavors. And it's proved immensely popular with customers.
Malai's goal is to show that Indian flavors and products are part of American culture and should not be seen as exotic.
Other than Etsy, Diwali products can also be found on small businesses owned by South Asians. These businesses include Madhu Chocolate and TAGMO Treats which are both environmentally friendly and provide unique flavor options for the younger generation.
Navanayagam says that local chocolate companies are using familiar Indian flavors with modern sustainable relevance for the younger South Asian generation. This shows more understanding of how a different generation is celebrating Diwali and what it means to them.
As Diwali becomes more famous and celebrated in the United States, there are worries that it might become too commercialized, like some people in India have said for a long time. Or, maybe mainstream brands are just trying to make money from the holiday.
She says that when anything in any culture becomes mainstream, there is a risk of it being appropriated. She wonders if this is just something that comes with visibility.
Bavishi is happy to see that there are now a lot of Diwali products available from both small businesses and mainstream retailers. She didn't have many traditions around Diwali when she was growing up in the US, partly because it wasn't very accessible then. But now it is.
"I'm glad that these holidays are recognized now, but we have to be careful about how we do it."
There are some questions that are worth exploring more. For example, does it matter if the person or company making a Diwali product is from South Asia or not? Another question is what is the difference between celebrating Diwali and appropriating it? Satpathy-Singh thinks it is progress that these conversations are happening.
Satpathy-Singh is talking about mainstream retailers selling Diwali products. She thinks it's good that we've arrived at this point, but she doesn't know if that means we've arrived.
Sonya Spencer is a news reporter for ABC News. She has covered major stories such as the 9/11 attacks, the war in Iraq, and the 2016 presidential election.